Topcats- 1st Six Weeks
Hard work pays off for fellow Lions
Katharine Walker, Hanah Kim, Andrew Iniguez, Sarah Snowden, and Emily Hines
October 13, 2017
Service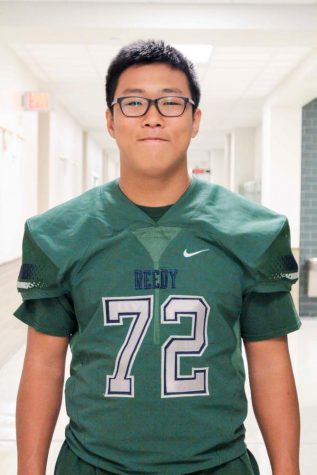 Senior Immanuel Kim won the service TopCat award for the first six weeks from illustrating his passion for giving back to the community around him. He participates in the club Best Buddies. "[This club] helps assimilate students diagnosed with intellectual developmental disorders to make their life less complicated than it already is," Kim said. Another way that Kim is involved is participating in orchestra. "We do a lot of community service in orchestra," the senior said. "One of the things we do is we go to charity events where we make meals for people in downtown Dallas. We also participate in Adopt-a-Street where we clean up a street and take care of it for the rest of the year." Immanuel has clearly shown his desire for helping the lives of his peers and community members around him. "Service means a lot to me," Kim said. "The word 'serve' is in the word 'service' and it means that I am a servant to the community; just giving back to everyone who has given to me."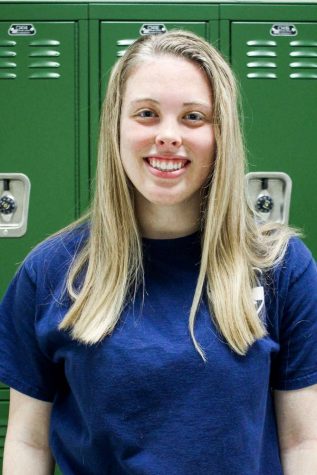 Junior Katie Bigelow won the TopCat award for service this first six weeks after demonstrating her immense involvement in the school and community. One of the ways she gives back is by working with senior citizens and getting other students involved in her passion. "I created my own club, [Joining Generations]", Bigelow said. Joining Generations is a way for students here at Reedy to build intergenerational relationships with the elderly in Frisco. Certainly, with one as involved as Bigelow, specific characteristics are needed to accomplish what she has. "Leadership, kindness, and compassion are a few examples of traits I show."
Integrity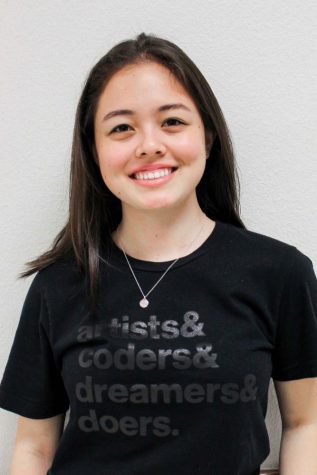 Senior Lynn Palmer won the integrity TopCat this six weeks, for a mindset she hopes to share with our fellow Lions. To Palmer, integrity is more than being truthful to others, but is also being strong enough to be truthful to yourself. Embracing herself has allowed her to work harder and better manage her time on what she holds to be important in her life. "Don't let anyone tell you what to do or who to be," Palmer says. "And definitely do not allow anyone to influence you to give up on your dreams."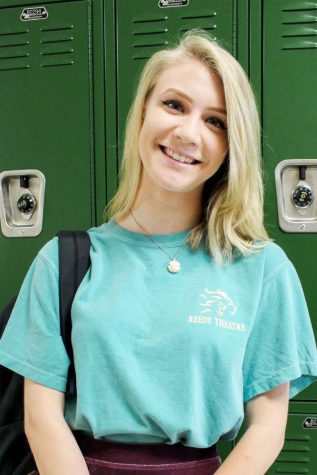 Senior Suzanne Goebel won this six week's TopCat award in the category of integrity for being a good and honest person. As assistant director for this year's play, Arsenic and Old Lace, she and other students stay up late to help bring a small story to life. "We're just trying to do our best, because the outcome is worth the effort," Goebel said. "I would tell other Lions to try extremely hard in their actions. Not doing the right thing will catch up to you eventually.
Community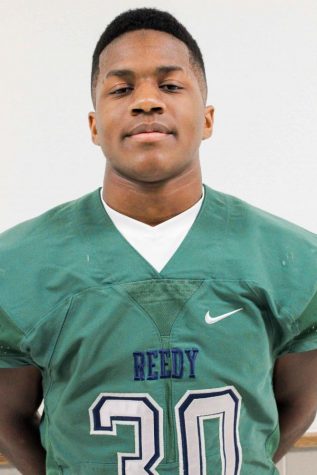 Senior Justin Gipson won the first six weeks TopCat award in the category of community with an enthusiastic mentality and positive outlook. During school he tries to have fun and makes sure the people around him are in a good mood. Despite actively participating in his academics and football, he doesn't forget to involve himself outside of school and h e promises to continue to do the same in the future. "To me, this award means that people see me as a big influence," Gipson said. "Even though you may be down in your life, the community will always bring you up."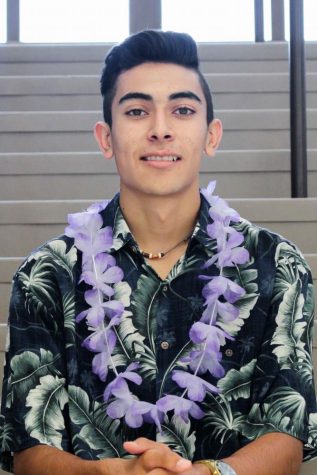 Senior Francisco Rodriguez won the community TopCat this six weeks, and rightfully so. Rodriguez is the epitome of community-oriented; From volunteering both inside and outside of school, to the simple acts of selflessness he displays on a daily basis, Rodriguez is a perfect role model for all of Reedy, which also may be why he is the President of our National Honor Society. "My advice is to try your best to be involved," Rodriguez says. "If others don't like or appreciate what you're doing, just let them be while you continue to only benefit yourself and the people around you."
Perseverance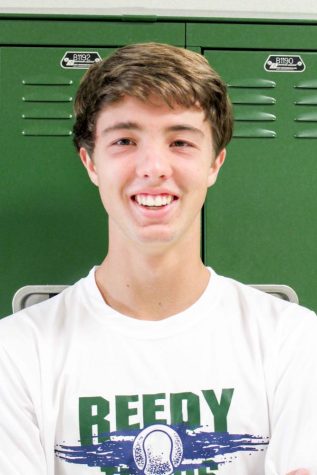 Senior Jack Crandall won the TopCat award for the first six weeks for the category of perseverance, shown through his dedication and drive for learning. His involvement in multiple advanced placement courses and extracurriculars allows him to pursue his passions while maintaining a balance. "Perseverance can be very difficult if you are not passionate about something," Crandall said. "I'm very passionate about learning, so that makes school a little bit more bearable for me just because I enjoy the classes I take." The senior's diligence both in and out of the classroom has proved to be prosperous as he takes the next step in applying to colleges and continuing to strive for success in his classes.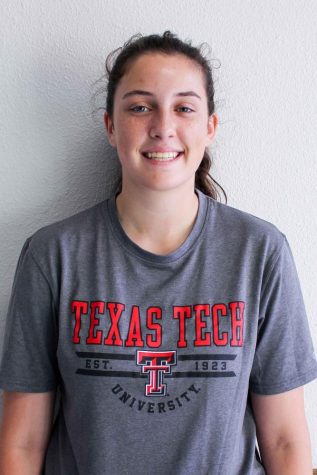 Senior Melissa Wark has won the first six week's TopCat award in the category of perseverance for not giving up. From balancing her schedule between schoolwork and softball, as well as attending tutorials regularly, it's clear she's not surrendering to the constant stress she lives through daily. "This award means that even when you think you're not getting the results you want, eventually you do," Wark said. "I would tell other students that they can do so much more than they think they can. If you push yourself to do what you want, then nothing is impossible."
Innovation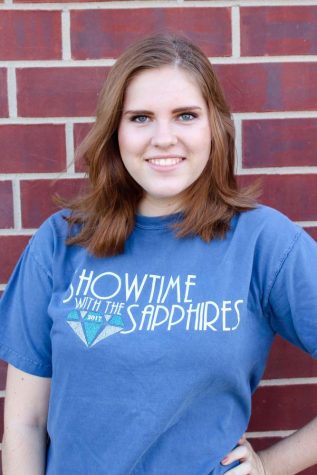 Senior Ariana Duston-Tolbert won the TopCat award for innovation for the first six weeks. With her creative and inventive personality, she runs her own freelance graphic design business while also interning as an advocate for businesses in Frisco. "Innovation is really just creating," Duston-Tolbert said. "I think one of the most beautiful things about humankind is our ability to create. Yes, we do destroy some things in the process, but a lot of the people on earth are just trying to do good." She inspires others to pursue an idea that they are passionate about, as she has witnessed success as a result of her efforts and positivity. "Do not think that you're too young, too small, not smart enough, or don't have the resources," the senior said. "If you're passionate about it, you will find a way to overcome those challenges."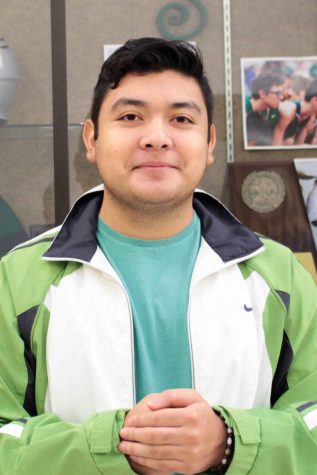 Senior Jose "Carlo" Aguilar Torres won the TopCat award the first six weeks in the category of innovation through his open mindset. Torres makes sure he is asking in-depth questions during class to fully understand the concepts being taught and always thinks outside the box. He likes trying out new things and he will continue to use his ingenuity both in and out of school. "My advice is to think of your own method of doing things, so that it will be easier for you to accomplish your goals in the future," Torres said. "I'm proud of it, it means I'm doing something good."