Sophomore VASE Art Competition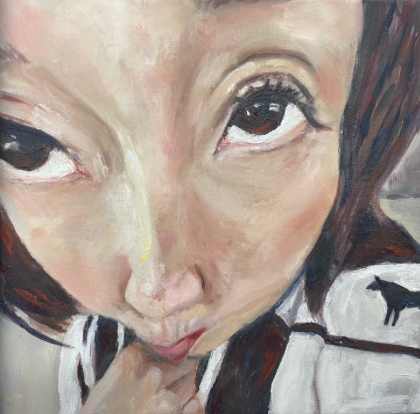 The VASE art competition is a competitive way to compare the art of local students. Haein Shon, a sophmore and artist, entered her paintings into the VASE competition during February. VASE competition is a way to not only display art in the local setting, but to show it at state. 
"VASE is open to anyone," Shon said. " Getting chosen to go to state, that is a big deal. It's a really great opportunity to get critiques but because of how predictable the competition is, if you want to get to state, making artwork that fits its style is encouraged."
While Shon's paintings didn't make it to state, she says that art has always been her passion. 
"I got into art when I was in preschool," Shon said. "I've been doing it inside and outside of school since then. I think that any activities having to do with arts and crafts have always been an interest of mine which is why I have been doing it consistently for such a long time."
Her VASE project features her two parents, displayed from a point five view, and painted using oil paint, a very difficult medium to paint with. 
"My favorite medium to make art with is oil paint," Shon said. "It's what classic artists used and honestly the results are worth the difficulty of the medium."
Her oil paintings are not the only art she does. Shon has been making art since she was young, and she holds a strong passion for it. With a second VASE competition behind her, Shon continues to paint and practice her craft. She hopes it will translate into a future for her. 
"Seeing that I have been enjoying it for such a long time," Shon said. "I think that in the future I will be able to have that same enjoyment. I don't know about art school yet, but in college or not, I expect to be painting as a hobby or career."