Our Black Experience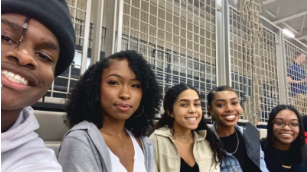 Black History Month Opinion Piece
Black History Month is an annual celebration during the month of February aimed to recognize, celebrate, and educate those on the many contributions Black Americans have made.Though the month is seemingly positive and important to many, the lack of awareness and overall representation of black culture has left some students wanting change and more of a voice. 
The lack of acknowledgement of Black History Month at Reedy was noticed by some students as part of the black community, leading to valid questions on what needs to be done to grow knowledge and awareness. 
"The only thing I saw about Black History Month around the school was the blank white bulletin board with the black and white printer photos," junior Rylei Jefferson said. "It was good to see something about the month, but compared to the holiday posters and other decorations more could have definitely been done." 
Representation of not only the black community, but any community is vital to ensure not only equal opportunity, but better experiences, something some students wish they had.
"I remember my very first day of freshman I bumped into an upperclassmen and he said 'watch out' and proceeded to call me the N-word," junior Amaris Fields said. "I was a little freshman at the time. Everything was new so what was I going to do, you know?"
Being degraded by being called a racial slur, insensitive jokes, and other microaggressions are common in most black student's experiences at school. With the 6% black population at  Reedy, the feeling of being different seems to be a shared experience for most, but the close community created overruled the small challenges. 
"The black community within Reedy is really tight-knit," junior Toni Mcinnis said. "Where I came from is really different from Frisco, so meeting people with similar experiences and values is really important and I'm glad to have met such great friends." 
The sense of community and togetherness is a strong value and necessity that is seemingly shared within the Reedy Black community. 
"Sticking together and making connections with teachers and coaches you can talk to about anything is really important," junior Mak Hill said. "Reedy itself is really different even compared to the other Frisco school I went to. Even though the small things can be annoying at times, there is power in adversity and community."