Dancing From a Distance
How Reedy's Sapphires are Preparing and Adjusting for Performances.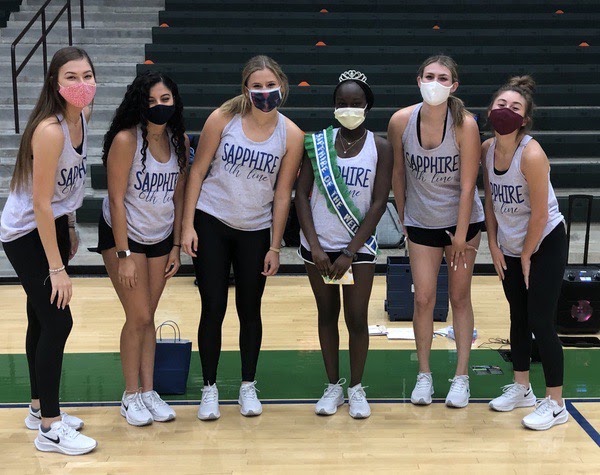 As the Reedy Football team prepares to kick off the 2020 season, the Sapphires are doing what they can to overcome the difficulties of Covid-19. 
"My biggest concern has and always will be the safety of my girls. I want them to be able to perform and do what they love but in a safe environment," Sapphire Director, Kristy Platt said. 
With the first three weeks of the school year being online, the Sapphires had to participate in several Zoom calls. Many members had mixed feelings about these virtual practices.
"It's definitely been weird to dance with each other virtually, but our directors and officers have made the best out of it," Senior, Carson Beck said. "We have a lot of new members that we haven't even gotten to know yet," Senior Social Officer, Camille Gonzales said. "It's difficult to [participate] in dances and formations through your computer screen!"
Mrs. Platt has been working tirelessly alongside Reedy High School administrators to create regulations for in-person practices that follow FISD's Covid-19 protocols.
"The Sapphire organization requires temperature checks and screening forms at the start of each week's practice as well as prior to games [and] performances," Platt said. "The Sapphires enter each practice space in groups of 12 or less with 6 ft in between each dancer upon arrival. The dancers also wear masks at all times except during active dancing. [They] are spaced 8-10ft during practice [and] we also have hand sanitization stations in the gym and studio areas," Platt said.
The return to on-campus practice was possible due to the new safety measures, leading to some excitement.  
"I am so excited to be back in person with the team! I just hope we can have fun while staying safe," Beck said. 
While many are excited about in-person practices, some students still possess concerns about how football season will look this year. 
"I am worried we won't be able to perform our iconic kick line. It's a fan favorite, and I will be sad to change our usual dancing styles," Beck said, referring to the halftime, kicking sh
ow.
Fans know the Sapphires for their high kicks and meticulous choreographies, but this year, that might look a little different. 
"Due to Covid, we have had to change many ways of how we do things such as not being able to "hook-up" for our kick line and having to dance 6ft apart or more," Gonzalez said.
Even with the new modifications, the team is working hard on 
maintaining their core values of positivity and gratefulness. 
"I know that the Sapphires may be disappointed about things being a bit different, but from my perspective, they are being so positive and grateful to be performing and practicing together as a team!" Platt said.
The Sapphires will perform at the first Reedy football game on September 25th.