Books Every High Schooler Should Read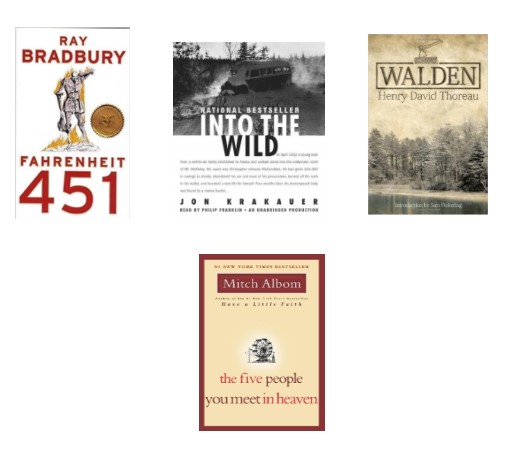 To make your educational career complete, every high schooler should read certain novels. From the Pulitzer Prize Winners to the New York bestsellers, there are many must-reads for high school students.
We asked the teachers of the Reedy English department about their must-reads for high schoolers. We gathered the four recommendations in this article.
Walden, by Thoreau is a novel and  collection of essays recommended that deals with the philosophy of the American experience.
Mr. Neve, Reedy English Teacher, recommended the novel because Thoreau "is a thinker. He makes you challenge and defend your own thinking. Plus I love the outdoors, nature, and life." Mr. Neve believes that it prepares seniors for the world ahead of them.
The Five People You Meet in Heaven, by Mitch Albom regards the concepts of life and death of a man attempting to save a child during an accident. He is sent to Heaven to look over the people in his life who hold grave importance.
Mrs. Rinehart, Reedy English teacher, recommended the novel because "the main character's experiences remind us as readers that all people are interconnected." Mrs. Rinehart indicates that every word and action can affect those around you, and vice versa with the people around you.
Into the Wild, by Jon Krakauer follows a young man from a rich family who treks to Alaska after giving away his money and leaving his old life behind.
Mrs. Birchett recommended the novel because she "continually return[s] to the story, his journey, and the profound impact he had on people that crossed his path." Mrs. Birchett believes that so many students plan out their lives, but it can all change when your perspective shifts.
Fahrenheit 451, by Ray Bradbury is set in a dystopian world where firemen start fires, not put them out; the novel follows a fireman giving through this society that believes books are bad for people.
Mr. Catrette recommended the novel because it stands as "a vivid reminder about the dangers of censorship, as well as how too much immersion in technology weaken[s] the bonds of real human relationships." From a world where conformity is preferred over diversity, there is a new uprising and generation of people created in the novel that is necessary for high schoolers to read.
Through these four books, high schoolers will learn more about the world and the people living in it. The Reedy English teachers have just scratched the surface of books high schoolers should read before graduation. Learning through books creates a pleasurable time and experience.