Guide to Your Future
College Applications Process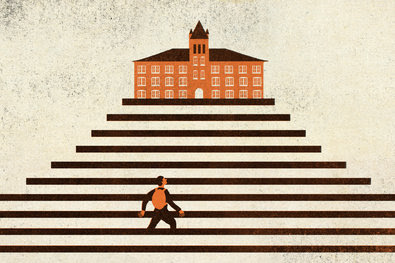 With exciting things like prom, graduation, and other senior events, in the background lies college admissions and applications. Students all across the world encounter this process, and a lot of them struggle to keep on top of it. 
We [the Newspaper], conducted a survey consisting of 8 questions relating to the college admissions and the application journey that many seniors and prospective graduates experience.. In the survey, 81.8 percent of students said that they were overwhelmed by the entire process and, when questioned further, each student struggled with different parts of the process.
The process consists of many steps: From choosing majors, to choosing schools, to getting recommendations, to writing essays, to researching scholarships, the process can understandably create a very hectic schedule for seniors.
College and Career Counselor, Ms. Shawna Chamberlin points out, "Seniors should be self-aware and honest with themselves about colleges. What are you looking for in a college? Seniors should be interviewing schools to see if they fit their requirements, not the other way around."
When followed, this advice will lead to a list of possible colleges senior could be interested in based on what they are looking for in a school and an education.
 "When approaching college applications I recommend first looking at the school's admission webpages. The processes are not the same for all schools even when using ApplyTexas or Common App. Make a list of the schools you intend to apply for and look at their requirements for admissions" continues Ms. Chamberlin.
After preparing for the application process, the long journey of checking all the boxes off the list begins. This process may seem long and hard, which it can be, but it's important to remember many high school seniors go through the exact same situation.
It is helpful to create a team of people that you can relay all your questions and inquiries to; "hav[ing] a team of people ready to support you… [such as] your counselors and teachers who are providing letters of recommendation" Chamberlain adds.
This team can make everything easier as a support will be created for you to assist you ride through college admissions and applications. Creating a schedule with this team can ease the workload, and organize everything you need to do.
College admission is just the beginning of your further education. Though overwhelming, especially during these times, try to put in perspective that you're not alone, relax and enjoy the process.