A Taste of Normal
Online Students Explain why They Made the Switch to In-Person Learning the Last Quarter.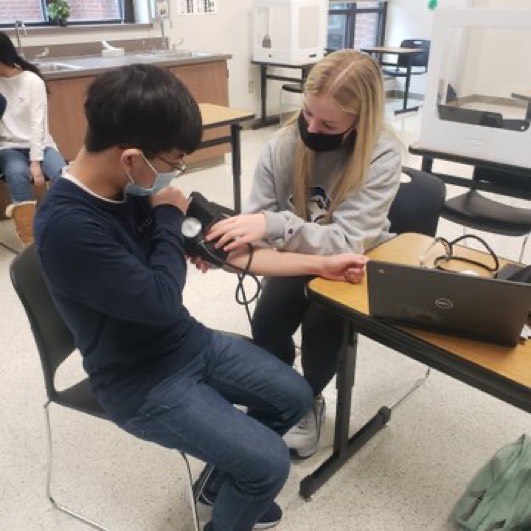 As we start the fourth quarter and approach the end of the school year, many have transitioned from online learning to in-person learning. Seeing as though these students have been in online learning all year, why did they decide to transition now?
 I chose to change to in-person because I wanted to get back into a routine," junior Lauren Noh said. "Being online made me very lazy and allowed me to have a sedentary lifestyle, so I wanted to get back into a normal routine."
For some, the end of their high school career is nearing, so being in-person allows them to experience the rest of high school in a somewhat normal way.
"I wanted to change to in-person because I wanted to get at least one part of junior year face-to-face," junior Ankita Pravin said. "In addition, with AP tests coming up at the end of the 4th nine weeks, I felt like I would have better interactions and could get my questions answered better in-person."
Because these students have been in online learning for so long, it can be difficult to adjust to their new learning environment.
"The hardest part of in-person school is probably getting to know my new teachers and classmates and having to learn new lessons that my online teachers didn't go over," Pravin said.
While for some it has been difficult, for others it has been much easier to adjust.
"I think it was easier for me to adjust to my schedule because I am a junior and I know my way around the school already," Noh said. "So I just adjusted to my schedule as I would after a break from school. I walked around to find my classes and just get used to the environment."
Because it is so late in the year, making such a big change to one's learning environment is a significant decision.
"I waited until the fourth quarter to change because it was near AP tests and the end of SAT," Noh said. "It was a hard decision, but now that COVID vaccines have begun being administered I thought it would be safer and better for me academically."
When comparing online to in-person learning, some prefer the face-to-face format.
"I mainly prefer in-person," said Noh. "I think it's a good experience for me to get back into the routine of talking to other people and actually being taught in class. I also think it made me more productive and organized because I actually have a set schedule."
COVID-19 was a large factor in students' decision to be in online classes, and now they are trying to adjust to the COVID-19 precautions set in place for in-person learning.
"I think the school does a pretty good job about wearing masks all the time, but at Reedy, some teachers enforce the rules well, whereas others are more relaxed with the rules," Pravin said.