The 64th Grammy Awards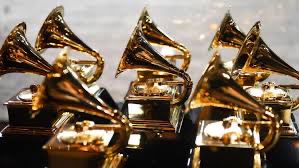 The Grammys. An award ceremony that we hear about every year that has recognized so many artists. But what really is the Grammys?
In the fifties, there were the Oscar and Emmy awards for television and cinematography, but there wasn't an award for music. The NARAS, National Academy of Recording Arts and Science, took care of that. They held the first Grammy awards ceremony in 1958 and keep the tradition to this day.
Since then, many things have changed. The first ceremony had only 28 categories, in 2022 there will be 86. Aside from music genre categories, there are Album of the Year, Record of the Year, Song of the Year and Artist of the Year. So far, the only artists to have won all of the latter four are Adele and Christopher Cross. 
The 64th Grammy Awards will be held at the MGM Grand Garden Arena in Las Vegas, Nevada on April 3rd of 2022, after being postponed and relocated due to the COVID-19 Omicron variant. Some of the artists performing are Olivia Rodrigo, Doja Cat, AC/DC, Lil Nas X and more. (for the full line up, click this link)
In 2021, the Grammy winners consisted of Taylor Swift, Post Malone, Megan Thee Stallion and many others. 
Even though the Grammys recognizes many talented artists, some people question their judgment. Not only fans have tried to boycott the Grammys, such as BTS fans for not giving the K-pop group much recognition, but also artists. After winning Album of Year, Adele criticized the Grammys for not awarding it to Beyonce, and the Weeknd called the Grammys corrupt after receiving no nominations for his single "Blinding Lights¨ or his album ¨After Hours¨ in 2021.
"There has also been much controversy about the Grammys' process when it comes to selecting which artists win," said Saharsa Tummala. "Personally, all I know is that it is definitely not based on streams."
We all have different music tastes and opinions, so some disagreements are bound to come over the results. 
¨At the end of the day it really is just a publicity stunt for artists to get more money,¨ said Catalina Herrera. "I think they're fun events and I don't really find that they are something that I care much about.¨
Regardless of controversy, all we can do is cheer on and support our favorite artists. Who are you cheering for this year?