Lionesses at Heart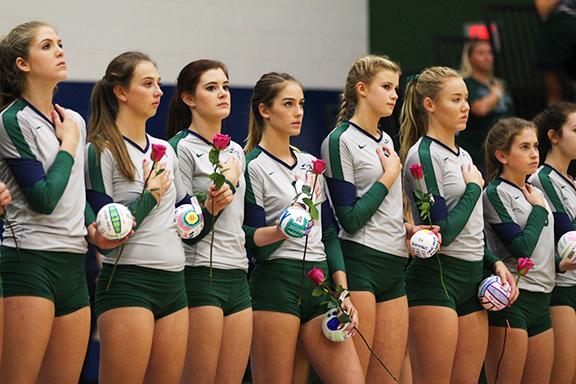 Hang on for a minute...we're trying to find some more stories you might like.
As the school year passes by and the month of October sets in, the varsity volleyball team is proud of their impressive achievements.
"We set goals at the beginning of the year," coach Katie Rackley said. "Our most important goal was being 6 in 1 when we were out of the first round and we definitely met that goal."
Throughout this season the team has beat numerous rivalry schools, such as Wakeland and Frisco.
"Beating Wakeland was unforgettable," junior Chloe Kirk said. "It was the most hyped game of the year. Overall, it was a good game."
Sophomore Stephanie Young has a sister that plays varsity at Frisco High School. She said it was really exciting when they beat her Frisco. Her older sister, senior Rachel Young, was not very pleased.
"It was an exciting game against Frisco," Stephanie said. "It is even more exciting because I am a sophomore and it's definitely a confidence booster to beat a senior, nonetheless, my big sister."
While winning is a good way to gain self-esteem, feeling the distinct connection between the fan and the player is something that is quite simply unforgettable.
"Being in a home crowd, we get encouragement from the crowd," Chloe said. "We get excited because they're excited, and we feed of of them. There is a lot of energy in the gym."
One of the best attributes to a good sports team is the friendship that forms within each and every player.
"We do Workout Wednesday with the freshman and the sophomores and it's fun to see us all come together and make friends throughout each grade," Chloe said. "And it's exciting to see them want what we want just as bad."
From the connection between player and fan, to the companionship they have created, the varsity volleyball team is certainly a lioness at heart.
"I love the grit characteristic in each of my players," coach Rackley said.  "The have the ability to getting down and do whatever they need to get better and win. Everyone on the team has that 'go get it' attitude and I love that. I am really proud of them"